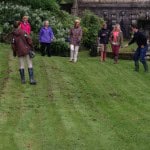 Well what a superb day yesterday was! One of our very successful whole team training days where we all get together, off site, to share ideas and experiences, as we endeavour to continually improve the care that we provide.
The team spirit was so strong it was almost palpable and Simon and Leah (as always!) finished the day feeling privileged to be able to work with such a talented and committed bunch.
By the way – any offers of captions will be gladly received by Leah leah@longlevenschiro.com – let's see what you can come up with!!!!