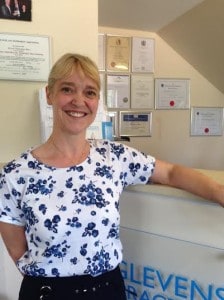 By now many of you will already have met the lovely Julie, the newest member of our reception team, but for those of you who haven't yet here she is!
Julie is local to Longlevens.  Her friendly approach and her background in busy administrative roles (incl 15 years at Sir Thomas Rich's!) make her a perfect and very complementary addition to our clinic team.  I am sure you will join me in giving her a warm welcome.  She is certainly looking forward to getting to know you all.
Please bear with us while we show Julie the ropes on the desk.  She is a very fast learner but there is quite a lot to show her and we really appreciate your patience :)
I'd also like to take this opportunity to thank all of you who applied to work with us – we received an astounding 130 applications in total!