It is very likely that most neck pain sufferers are in 'Westernised' countries – a result of modern daily regular use of PC's, smart phones, time spent travelling, and carrying one sided heavy luggage and bags.
At the Longlevens Chiropractic & Sports Injury Clinic we treat many people from Gloucester, Cheltenham and the surrounding areas who are suffering with many different types of neck pain. Lifestyle is often one the most common contributors to neck problems, whether you sit in front of a computer for hours on end or play front row in rugby.
Types of Neck Pain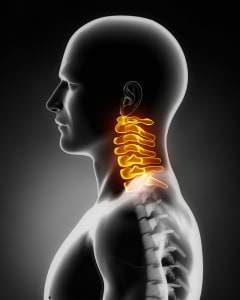 Actual causes of neck pain can be far ranging.  Chiropractors can help with mechanical neck pain, and stiffness and soreness of the neck.  We can also help neck pain that is caused by poor posture or awkward sitting positions, and pain caused by tension of the neck or the shoulders.
Sit Up Straight!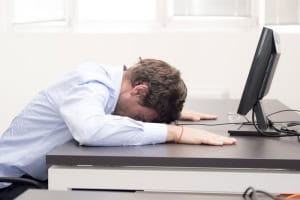 Holding your head in an unnatural position for long periods of time can lead to using muscles incorrectly and result in neck pain.  For example, take the muscles of your upper back and shoulders – some of these are designed to support the head to keep it upright, so if these muscles are struggling to hold your head up because your head is in an incorrect position such as flexed forward for a long period of time, neck pain and headaches can result.  This is because they become tight and painful due to the fact that they are working harder than they are supposed to.  They can also become weak and sluggish, in turn preventing neighbouring muscles from doing their job.  Its easy to see why months or even years in a poor posture at work or play can have a deep rooted effect on your neck and how it moves.
If supporting neck muscles are not working correctly to support the bones, ligaments, discs and joints of the neck, this can lead to neck pain. Usually as a result of either the muscles being too tight or due to the bones, discs and ligaments in the neck receiving to much pressure that they cant cope with.
If you are experiencing neck pain, applying an ice pack to the region regularly and making sure you keep the joints moving are a couple of simple short-term strategies that may help (see "Why I need to Ice?"), and book an appointment with one of our chiropractors.
Booking in with a chiropractor at our Gloucester based clinic means that we can assess, diagnose, and treat your problem, and you can learn how to best manage it for the long term to prevent recurrence.  Treatment may include a combination of manipulation, mobilisation, soft tissue work such as massage therapy, and dry needling as appropriate.
What to do if you have neck pain
Applying an Ice pack
Applying an Ice pack to the neck pain regularly (wrap it in a damp tea towel), and making sure you keep your neck gently moving in rotation is recommended in the short term to relieve pain (see "Why I need to Ice?").  Neck pain can be caused by a variety of reasons, so to get the root cause of the problem we recommend that you consult with a Chiropractor at our Gloucester based clinic.
Treating the pain
Anyone who visits our clinic will always, above all else, receive a full and thorough assessment. Furthermore, we will give you a clear and honest explanation as to what we believe is causing your pain and what the best course of action is to get things back on track. Our aim is to get you back to your best as quickly as possible using specific mobilisations, gentle manipulation and a wide variety of soft tissue therapies such as massage. Dry needling is also used where appropriate. We will also give you a summary of your initial visit so that you have a record to take home.
Prevent recurrence of pain
Our clinical team pride themselves on preventative care. We will always prescribe a completely personalised 'home help' program to ALL patients who visit the clinic. This is essential to make the best and most long lasting recovery. We aim to put you in control so we can both achieve the most permanent solution possible. Call the clinic today for an appointment or to chat with a member of the team.
Symptoms often caused by your neck
Neck pain and stiffness
Headaches
Dizziness
Weak and tired muscles
Arm and shoulder pain
Tingling and pins & needles
Lack of concentration
Light headedness
Fatigue and tiredness
Accreditations
&

Affiliations
Chiropractic Organisations
Healthcare Insurance Companies
Really good, i needed a quick appointment after putting my back out and Jenny Ashton resolved the problem with a couple of quick questions massaging and correction. She also highlighted... read more another issue id been suffering with. Very impressed

Mark Prosser


June 1, 2022

Shout out to the main man James, runs through things thoroughly with no stone left unturned, makes everything very clear and is very easy to get on with making for... read more a comfortable experience. Practical wise gets to the nitty gritty and doesn't mess about. Results so far has been more than I expected! The reception staff I've come across all seem good spirited, helpful people. Would definitely recommend this spot.

NPC_94 _


March 18, 2022

Danny was extremely friendly and welcoming. He explained everything in great detail to help me understand the logic behind my injury. I am looking forward to following his guidance and... read more improving a 10-year long condition that no one has previously been able to diagnose!

Georgie Peru


November 8, 2021

Having been a regular at a chiropractor in Cheltenham and now having moved to Longlevens I am so happy to have found Longlevens Chiro. I booked in for a consultation and... read more treatment with Jenny and she was wonderful. We ran through my history and previous treatments before moving onto my appointment. Very professional environment and very happy with the service. I would highly recommend to anyone.

Sophie Dalton


September 7, 2021

I have been to many Chiropractic clinics over the years and Longlevens is by far the best. All staff are friendly and welcoming, quick to respond to any problems or... read more issues and run a smooth and efficient clinic. My current back problems are the worst that they have been for a long time, however, Monet, is working Chiropractic miracles. In a short space of time she has achieved amazing results and my back is improving with every visit. She reminds me of the Tina Turner song ''simply the best'' Thank you Monet.

simon oldman


March 13, 2021

Fantastic practice, they offer all the services you need to rehabilitate yourself. They are definitely not after your money as my chiropractor Simon really encourages extra stretches to improve... read more your conditions.

Stephan Olivier


October 3, 2020

Superb service and experience. I've seen James twice. Very helpful and knowledgeable. I've made huge progress in a short space of time.

rob


August 4, 2020

Richard Powell


March 17, 2020

Longlevens Chiropractors are faultless. The service is great, very timely, very precise and Danny helped me get back on my feet quickly after the birth of my baby. The 4... read more star rating isn't particularly based on their service - their service is 5 star all day long - I only rated 4 star because as it is a private service, it is expensive and as a part time mum it isn't something I can easily afford. This isn't really a criticism, it's just an unfortunate circumstance to which if I could afford it, I would be going all the time. Next to that and I think this is based on the age of the building, there isn't much in the way of pram accessibility. As much as I could I would try and get little miss looked after by grandparents for an hour or so whilst I attended a session, however that wasn't always the case and had to bring her along with. Granted she was as good as gold when I was having a session but I think my anxiety would have been settle just a touch more should I have been able to keep her asleep in her pram. I do know there was a room downstairs and yes you can take a pram should your session be in the room downstairs however other than that, it's a wee bit sticky. If I could offer 4.5 stars I would! And again, this isn't really a criticism, it's more personal circumstance but I'm just hoping I can express my experiences to other mums who may be in a similar situation. Great service and a lovely friendly team and would always highly recommend

Another Blogging Mother


November 15, 2019

Been coming here for over a year now and always made to feel welcome, The receptionists are always helpful and polite and my chiropractor is always on time and very... read more helpful and will always explain everything he does and the benefits of it.

Ryan Tanner


November 2, 2019

Thank you Wiebke. You pinpointed exactly what was causing my discomfort and treated me accordingly. I now feel so much better and am looking forward to the next... read more appointment. The useful information of what I can do at home is really helpful too.

Karen Gibbs


October 8, 2019

Great service and great treatment. I have been seeing Wiebke for some time since having some major back pain preventing me from doing anything without severe pain. She managed to... read more get me moving again very quickly and with some good advice and exercise routine I have managed to gradually improve my back. Very friendly, and knowledgeable service and I would highly recommend them.

Nick Baker


June 18, 2019

Excellent. I cannot praise highly enough. I visited the clinic and for an appointment with Danny for a sore lower back and for a neck issue. The lower back pain I'd... read more been experiencing for 6 months or so, and Danny gave me treatment at the clinic and also some exercises to do at home. I normally wake with pain in the lower back and the first day after treatment, the pain, although not 100% gone (maybe 90% gone) I could move freely upon waking. My neck issue also seems a lot better than it was and the techniques to sort this problem seem to be working as well. Many thanks to all at the clinic and special thanks to Danny.

Alex Russell


May 21, 2019

Professional service, easy to find and has its own parking. I went with neck pain and it was immediately reduced after just one session (thanks Wiebke!). When I stupidly left... read more my car lights on in the car park and went out to a flat battery the boss kindly jump started me. Nice bunch of people and as I say the treatment worked for me and I will continue less frequent visits to keep it from reoccurring. 5***** all round.

Steve Powell


March 18, 2019

Came here after years of back and forth to the GP and a hip operation. Just over a month ago I was taken to hospital with my disc that has... read more slipped which was the final straw with my back pains. I decided to get some more help rather than physio as it never worked and in fact made the pain worse. I currently see Mr Danny Adams who has been wonderful. Everything I say which can come across as silly but he understands and takes it on board. Being a health care professional myself I understand a lot but he breaks down everything to make sure you properly understand and taken it on board which Orthopaedic consultants, GPS and majority of consultants did not do and brushed my pains and problems under the carpet. I'm now getting better, obviously with a slipped disc I have good days and bad days but with Danny's help it's a lot more bareable. I can now do light exercise which is something I haven't been able to do in 6 years. I honestly could not thank Danny enough for his care. The practice as a whole is genuinely lovely and helpful, never had any problems with rescheduling appointments or getting an appointment. I also really like that every few weeks they email you regarding how you're getting on and how the pain is.

Catherine B


February 20, 2019