Approximately 10% of the population suffers from neck pain at anyone time!
It is very likely that most neck pain sufferers are in 'Westernised' countries – a result of modern daily regular use of PC's, smart phones, time spent travelling, and carrying one sided heavy luggage and bags.  At the Longlevens Chiropractic & Sports Injury Clinic we treat many people from Gloucester, Cheltenham and the surrounding areas who are suffering with many different types of neck pain or acute whiplash associated disorders.  Lifestyle is often one the most common contributors to neck problems, whether you sit in front of a computer for hours on end or play front row in rugby.
Causes of Neck Pain?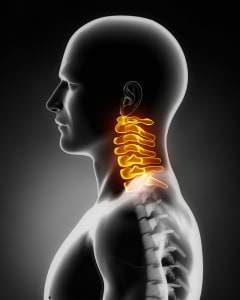 Actual causes of neck pain can be far ranging.  Often you need some sort of trauma or force that affects the neck.  That force could be small but repetitive and repeated a thousand times such as using a tablet device at work (also known as a 'micro-traumatic' injury). The force could also be a sudden big one – a fall in the garden or an acute whiplash associate injury are common examples of how neck pain is caused by one quick sudden jolt (also known as a macro-traumatic injury).
Sport and Neck Pain
Sport can give you neck pain from both repetitive sprains and sudden heavy knocks.  A lot of people who play rugby experience pain and discomfort in the neck, especially those involved in the scrum!  Extreme sports can be very unpredictable and can sometimes lead to neck pain as a result of a whiplash type injury where the neck is shunted heavily in one direction then back in the opposing direction… a double whammy where the neck is strained in 2 directions in the same event!
Sit Up Straight!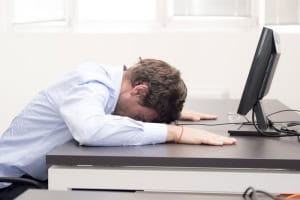 Holding your head in an unnatural position for long periods of time can lead to using muscles incorrectly and result in neck pain.  For example, take the muscles of your upper back and shoulders – some of these are designed to support the head to keep it upright, so if these muscles are struggling to hold your head up because your head is in an incorrect position such as flexed forward for a long period of time, neck pain and headaches can result.  This is because they become tight and painful due to the fact that they are working harder than they are supposed to.  They can also become weak and sluggish, in turn preventing neighbouring muscles from doing their job.  Its easy to see why months or even years in a poor posture at work or play can have a deep rooted effect on your neck and how it moves.
Whatever the cause…
If supporting neck muscles are not working correctly to support the bones, ligaments, discs and joints of the neck, this can lead to neck pain. Usually as a result of either the muscles being too tight or due to the bones, discs and ligaments in the neck receiving to much pressure that they cant cope with.
If you are experiencing neck pain, applying an ice pack to the region regularly and making sure you keep the joints moving are a couple of simple, basic, short-term strategies that may help (see "Why I need to Ice?").
Booking in with a Chiropractor at our Gloucester based clinic means that we can assess, diagnose, and treat your problem, and you can learn how to best manage it for the long term to precent recurrence.  Treatment can include a combination of manipulation, soft tissue work such as massage therapy, and dry needling, as appropriate.
What to do if you have neck pain
Applying an Ice pack to the neck pain regularly (wrap it in a damp tea towel), and making sure you keep your neck gently moving in rotation is recommended in the short term to relieve pain (see "Why I need to Ice?").  Neck pain can be caused by a variety of reasons, so to get the root cause of the problem we recommend that you consult with a Chiropractor at our Gloucester based clinic.
Get you out of pain…
Anyone who visits our clinic will always, above all else, receive a full and thorough assessment.  Furthermore, we will give ou a clear and honest explanation as to what we believe is causing your pain and what the best course of action is to get things back on track. Our aim is to get you back to your best as quickly as possible, using specific mobilisations, gentle manipulation and a wide variety of soft tissue therapies such as massage.  Dry needling is also used where appropriate.  We will also give you a summary of your initial visit so that you have a record to take home.
Keep you out of pain….
Our clinical team pride themselves on preventative care.  We will always prescribe a completely personalised 'home help' program to ALL patients who visit the clinic.  This is essential to make the best and most long lasting recovery.  We aim to put you in control, so we can both achieve the most permanent solution possible! Call the clinic today for an appointment or to chat with a member of the team.
If you'd like further information on this treatment please get in touch.
Symptoms often caused by your neck….
Neck pain and stiffness
Whiplash
Headaches
Dizziness
Weak and tired muscles
Arm and shoulder pain
Tingling and pins & needles
Lack of concentration
Light headedness
Fatigue and tiredness
If you would like to find out more about our clinic, or how we could help you, please do not hesitate to get in touch.  You can use the contact us page of this website or phone 01452 309372.