UK workers risking their back health when working from home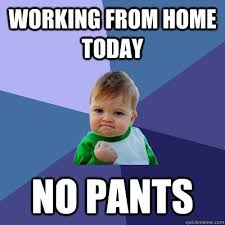 Increasing numbers of workers could be risking their back health by not working in posture-friendly environments at home, according to new research from the British Chiropractic Association (BCA).

New findings from the BCA revealed that many Brits are opting for home-comforts over health, with just under a fifth (19%) of those working remotely on a laptop /desktop computer admitting to working from the sofa and more than one in ten (11%) saying they work from their bed.
Work was cited as a trigger of back or neck pain by nearly a fifth (19%) of sufferers, but despite this, more than a quarter (26%) of workers admit to taking no proactive measures to protect their back whilst at work; whether at home or in an office.
Sedentary lifestyles may also be impacting on work-lives, as it is estimated that a massive 4 in 5 people in the UK have a desk job*. The survey revealed that sitting in the same position for long periods of time was the most common cause of back or neck pain in the workplace, with over two fifths (41%) of workers who have suffered from back or neck pain citing this as a contributing factor.
As part of Chiropractic Awareness Week (11 – 16 April) the British Chiropractic Association is urging UK workers to pay more attention to the environments they work in – especially when taking advantage of flexible working.
The number of people working from home, either full or part time, rose to over 4.2 million in 2015, with home workers now making up 13.7% of the population .

BCA chiropractor Tim Hutchful says: "An increasing number of workers are opting to forgo the office, preferring to work from the comfort of their own home. However, these workers may not realise that their home environments, while perhaps seemingly more comfortable, could be putting serious strain on their back.
"Whilst it may be tempting to work slumped on the sofa or lying in bed when given the opportunity, workers need to realise that they could be doing damage to their spine. By making a few simple changes to their work stations, workers can embrace the benefits of flexible working without putting themselves at risk of developing back and neck problems."
The BCA has the following tips for people working at home:
• If possible, designate a specific area in your home for working and always work at a table, sitting on a chair, rather than on the sofa or in bed.
• The top of your screen should be level with your eyebrows and if you are working from a laptop, make sure you are not hunching over the screen. If you don't want to invest in a computer stand, place sturdy books, for example shopping catalogues, under your laptop so that you can adjust the level of the screen to fit your eye line.
• Use a detachable keyboard and mouse whenever possible, as this will ensure that your movement is not restricted and you are not placing unnecessary strain on your back.
• Taking regular breaks is extremely important and the BCA recommends workers move around every 20-30 minutes. An easy way to ensure that you get away from your desk is to set a loud alarm in another room.
• When making phone calls, take the opportunity to get up from your desk and move around as you talk.
• Embrace the privacy of working from home by doing regular stretches. The BCA has developed a series of simple exercises to improve posture and help prevent back pain. More information here.
The BCA recommends that, if you are experiencing pain for more than a few days, then you should seek professional help, as an undiagnosed problem could lead to longer-term problems if left untreated. To find out where your local chiropractor is, please visit and search for a chiropractor.
The research was carried out on behalf of the British Chiropractic Association.
* Referenced here: http://www.telegraph.co.uk/men/active/mens-health/11645412/Five-secrets-to-leading-a-healthy-office-life.html
1 Taken from the TUC's analysis of unpublished data from the ONS Labour Force Survey